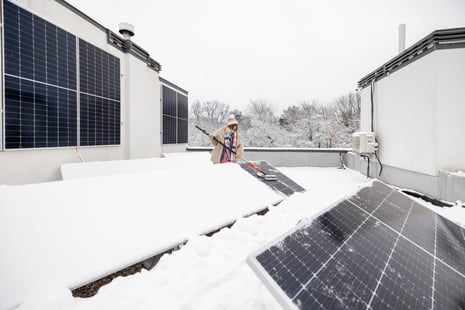 Here are a few tips from the Dallas solar experts at DFW Solar Electric to help you get the most out of your solar panels this winter. Read the full article to learn more.
As the days get shorter and the temperature in North Texas starts to dip, we all begin to prepare our homes for winter. But what about your solar PV system? Should you give it special care during the colder months? The answer is yes! Here are a few tips from the Dallas solar experts at DFW Solar Electric to help you get the most out of your solar panels this winter.
Keep your panels clean
In the fall, leaves and other debris can fall on your solar array and cause shading. Shading can decrease the power output of your system by up to 30%. So, keep an eye on your panels and give them a good cleaning before winter sets in.
Keep an eye on your inverter
Your inverter is responsible for converting the DC from your solar panels into AC that your home's appliances and electronics can use. Inverters can be sensitive to temperature changes, so keeping an eye on yours during the winter is essential. If you notice that it's not working as efficiently as it should be, or if it seems to be making strange noises, contact a qualified solar technician immediately.
Keep an eye on your usage
We all use more energy in the winter due to increased heating needs. But, if you have a solar PV system, you may be able to offset some of those increased costs by using more solar-generated power during the day and less grid-supplied power at night. You can maximize your savings this winter by monitoring your energy usage and making adjustments as needed.
Prevent heat loss
Like your home, your solar PV system must be insulated to prevent heat loss. Ensure all electrical connections are well-sealed and there is no residual moisture in the system.
By following these tips, you can help ensure that your solar PV system continues to run efficiently all winter. And, who knows? With a bit of extra care, your system might just help you offset some of those increased energy costs that come along with the colder months. DFW Solar Electric is here to help you every step of the way - from choosing the right solar PV system for your home to providing ongoing maintenance and support. Contact us today to learn more about going solar in Dallas!
DFW Solar Electric Service Areas
We service all of the Dallas-Fort Worth metroplex, including Frisco, Allen, Plano, Southlake, McKinney, Colleyville, Flower Mound, Lewisville, Keller, and Coppell. If you're thinking about switching to solar, contact us today to learn more at 972-827-7651. We'd be happy to answer any of your questions and help you get started on your journey to renewable energy.
About DFW Solar Electric
With more than 30,000 solar panels installed to date, DFW Solar Electric has the experience and professionalism to provide your home with the best, most efficient possible solar power system. We use only products from reputable and time-trusted suppliers, and our installations are guaranteed to last with industry-standard maintenance.
While there are many solar installers to choose from, selecting one who knows the area and already has a proven track record of excellence can simplify the process and ensure you get the best return on your investment.