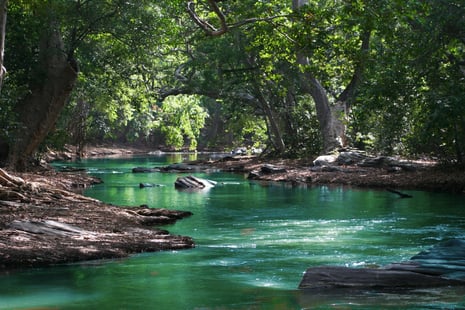 In a world increasingly focused on economic growth and development, it can be easy to forget that the environment is an integral part of our lives. The truth is that the environment is the foundation upon which everything else is built, and we need to take care of it if we want to continue to thrive. That's why World Environment Day is so important. It reminds us of the necessity of protecting the world and the role we can all play in making a difference. In this blog post, we'll look closer at how solar and energy-efficient appliances can help us make a difference on World Environment Day (and every day).
The Importance of Protecting Our Environment
Although it can be easy to forget, the environment is incredibly important. It provides the natural resources we depend on for survival, from clean air and water to food, shelter, and clothing. But our environment is threatened by pollution, forest depletion, and climate change, amongst other issues. This is why protecting the environment is so critical and why we should all be motivated to do our part.
The Benefits of Solar and Energy-Efficient Appliances
Solar and energy-efficient appliances can help us reduce our carbon footprint and positively impact the environment. One of the most promising ways to reduce our carbon footprint and move towards eco-friendly living is by harnessing solar energy. Solar energy is a renewable energy source from the sun, meaning no greenhouse gas emissions. With Texas being the sunshine state and abundant in solar energy, it only makes sense that homeowners invest in solar panels. They are a long-term investment that can save you money on energy bills in the long run and add value to your home. Energy-efficient appliances like refrigerators, washing machines, and air conditioning units can also help to reduce your energy consumption, which is better for the planet and can put money back in your pocket. That's right! Powering your home with solar panels significantly reduces carbon emissions and, over time, can lead to considerable savings on your electricity bill.
Key Considerations for Homeowners in Dallas Fort Worth
If you're a homeowner in the Dallas Fort Worth area looking to invest in sustainable and energy-efficient living, there are a few key considerations to keep in mind. Firstly, it's essential to find a provider that you can trust. Plenty of companies claim to be experts in solar and renewable energy. Still, not all of them are experienced or reliable. Additionally, it's a good idea to understand your energy consumption habits to identify areas where you can reduce your energy usage. Finally, it's essential to have realistic expectations regarding the impact of energy-efficient appliances and renewable energy systems. While they can help reduce your footprint, they won't completely eliminate it.
Taking Action on World Environment Day
World Environment Day is a global event that occurs every year on June 5th. This year's theme is Ecosystem Restoration. The goal is to encourage everyone to do their part and help restore ecosystems worldwide. There are many ways to get involved on World Environment Day, from volunteering for local clean-ups to pledging to reduce your carbon footprint. By taking small actions daily, we can all make a difference and help protect our environment.
A Final Word on Sustainable Living in Dallas Fort Worth
Living sustainably in the Dallas Fort Worth area is both achievable and essential. By investing in solar and energy-efficient appliances, reducing energy consumption, and participating in events like World Environment Day, we can positively impact the world around us. So, on this World Environment Day, I encourage you to take the first step towards sustainability. Whether it's signing up for a solar panel installation or simply pledging to take small steps to reduce your energy consumption, every action counts. Together, we can make a difference and protect the planet for years to come.
We hope that this blog post has been informative and inspiring. Protecting the environment is critical, and it's up to all of us to do our part. By investing in solar and energy-efficient appliances, homeowners in the Dallas Fort Worth area can make a tangible difference and protect the planet for future generations. Don't wait for World Environment Day to take action. Start today, and together we can make a difference.
DFW Solar Electric Service Areas
We service all of the Dallas-Fort Worth metroplex, including Frisco, Allen, Plano, Southlake, McKinney,Colleyville, Flower Mound, Lewisville, Keller, and Coppell. If you're thinking about switching to solar, contact us today to learn more at 972-827-7651. We'd be happy to answer any of your questions and help you get started on your journey to renewable energy.
About DFW Solar Electric
With more than 30,000 solar panels installed to date, DFW Solar Electric has the experience and professionalism to provide your home with the best, most efficient possible solar power system. We use only products from reputable and time-trusted suppliers, and our installations are guaranteed to last with industry-standard maintenance.
While there are many solar installers to choose from, selecting one who knows the area and already has a proven track record of excellence can simplify the process and ensure you get the best return on your investment.