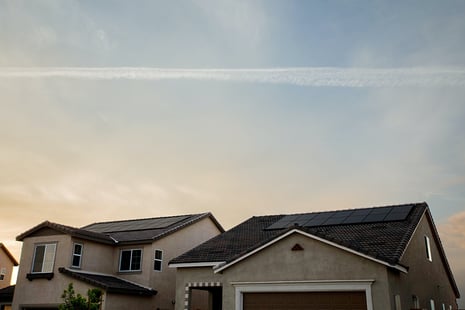 Summer in Dallas-Fort Worth is a season of relentless sunshine and sweltering heat. However, solar panels can harness all that sunshine to power your home. If you've already invested in solar power, you're on the path to energy independence. But are you maintaining your panels properly? Proper summer solar panel maintenance is vital to keeping them running optimally and extending their lifespan. In this post, we'll look at some helpful tips to keep your system running smoothly all season long.
Clean Your Panels Frequently
First and foremost, ensure that the panels are clean. The accumulation of grime and dust can hinder their performance, reducing your power output. Clean them with a hose or a gentle cleaning agent and a soft brush as needed. Do not use steel wool or abrasive materials, as they can damage the surface.
Keep an Eye Out for Shading
Check for shading on your panels in summer. As the sun hits panels from an angle, shadows cast by nearby trees or your home can decrease energy production. Trim any trees that cast shade and move outdoor furniture or other items obstructing the panels.
Monitor Your Inverter Output
Your inverter is key to converting the direct current produced by the panels into the alternating current that powers your home. During summer, check your inverter output regularly for any abnormalities. Note how much energy your panels generate daily and compare that to previous days. If you notice a significant decrease, consider having your system checked by a solar professional.
Practice Safe Cleaning Procedures
When cleaning your panels, always practice safety procedures. Use a sturdy ladder and avoid leaning it against your panels. Wear slip-resistant shoes and avoid cleaning the panels when wet or it's raining. When in doubt, contact a professional cleaner who can safely and effectively clean your panels for you.
Taking care of your solar panels during summer is crucial to ensuring optimal performance and maintaining their longevity. Making minor tweaks, such as cleaning and monitoring the panels' output, can significantly maximize your energy production. Follow these tips to maximize your solar investment and enjoy the power of the sun in Dallas-Fort Worth.
DFW Solar Electric Service Areas
We service all of the Dallas-Fort Worth metroplex, including Frisco, Allen, Plano, Southlake, McKinney,Colleyville, Flower Mound, Lewisville, Keller, and Coppell. If you're thinking about switching to solar, contact us today to learn more at 972-827-7651. We'd be happy to answer any of your questions and help you get started on your journey to renewable energy.
About DFW Solar Electric
With more than 30,000 solar panels installed to date, DFW Solar Electric has the experience and professionalism to provide your home with the best, most efficient possible solar power system. We use only products from reputable and time-trusted suppliers, and our installations are guaranteed to last with industry-standard maintenance.
While there are many solar installers to choose from, selecting one who knows the area and already has a proven track record of excellence can simplify the process and ensure you get the best return on your investment.