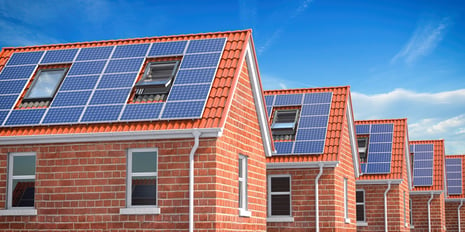 In this day and age, people are seeking out sustainable methods of living more than ever. Millennials look to support eco-friendly brands and have gone to great lengths to avoid supporting companies known for contributing to growing climate change concerns. Carbon neutrality is a term that has repeatedly been appearing in the headlines, and it refers to achieving net-zero carbon dioxide emissions. Many enterprises have set ambitious 'net zero' goals for themselves over the next 10 to 30 years, which means that the amount of greenhouse gas produced by their company is offset by the amount removed from the atmosphere.
As many people focus on their purchasing and consumption habits associated with particular brands and companies, another step in living an eco-friendlier lifestyle is evaluating electricity usage at home. Solar power systems can have a positive impact on a family's house, but did you know they can also change the surrounding neighborhood too? The support for residential solar has been steadily increasing due to its ability to reduce long-term energy costs, unnecessary fossil fuel burning, and more.
Whether a home has solar panels or not, it can profit from the surrounding neighbors who do. Homes with solar panels help make the air and water cleaner, local electricity more reliable, and more. Solar power is suitable for every home that qualifies, though. A solar energy system will increase your home's property value – but just how much you can save will vary depending on your property, installation customizations, energy-efficient appliance upgrades, and more. Often, communities can even partner together to install solar panels on multiple homes to increase the individual property values and the neighborhood as a whole too.
Are you considering solar for your home? Our team of experts at DFW Solar Electric can help you determine your solar readiness. Here are a few things to investigate to determine if your home is a good fit for solar panel installation:
Condition of Your Roof. Your roof should be in good condition and constructed with durable materials. Solar systems add about 2-5 pounds per square foot, so structural work is rarely needed.
Shading and Angle of the Sun. There should be little to no roof shading year-round. South-facing or some Southwest or Southeast facing roofs are optimal with at least 500 square feet of open areas.
Local Restrictions. Usually, we can help you resolve city or neighborhood restriction conflicts, but in rare cases, we can't install our systems because it would violate deed or contract restrictions or local ordinances.
Utility Bill. The larger the solar panel system, the more cost-effective it will be for you. We have found that solar panels don't save much money for customers who pay less than $100 per month for electricity.
If you and your neighbors are interested in switching to solar and increasing your home's property value and the energy efficiency of your neighborhood, contact DFW Solar Electric to learn more.
Our Solar Energy Solutions
Are you thinking about a solar panel system for your home or business? Give us a call at 972-827-7651 or click HERE to get a free, no-obligation consultation, and we'll perform a detailed analysis to help you determine which solar panels make sense for you.