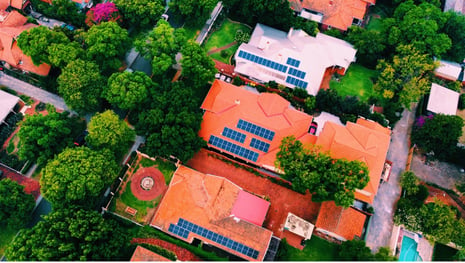 Solar PV systems offer numerous environmental and economic benefits to homeowners. Read more to learn about saving with rooftop solar panels.
Solar PV systems offer numerous environmental and economic benefits to homeowners. As with any significant purchase, upfront costs are required, but the long-term savings make solar power a worthy investment. Both National Savings Day and World Savings Day take place in the month of October. What better way to celebrate than with solar savings?
Solar savings is an industry term often used to describe avoided energy costs. In other words, this is the amount of money you would have spent on your electric bill if you hadn't invested in solar panels. How much you actually end up saving is dependent on multiple factors, such as your power usage and the size of your solar PV system. Solar savings are calculated using roof size and shape, shaded roof areas, local weather, local electricity prices, solar costs, and estimated incentives over time.
Here are some of the key economic benefits of switching to solar:
Reduce or eliminate your electricity bill. Energy consumption is calculated based on kilowatt-hours, shortened to kWh. The average U.S. household consumes 10,694 kWh each year. When multiplied by the national average electricity rate, the cost can get pretty steep. With solar panels, though, homeowners can generate their own energy to power their homes, which can reduce or even eliminate their electricity bill altogether.
Lock in a permanent energy rate. Electricity costs steadily increase year after year, placing a heavy burden on energy consumers. Thankfully though, with solar, homeowners can lock in their electricity rates so that they are unaffected by future cost increases.
Increase your home value. When you invest in solar for your rooftop, not only do you benefit from reducing energy costs, but you also increase your home value. The exact amount depends on the home and installation since there are many variables at play. Overall, solar PV systems truly are one of the best investments you can make for long-term savings. The Office of Energy Efficiency and Renewable Energy reported that homebuyers are willing to pay a premium for a house with a purchased solar installation.
Switching to solar can also help save energy, water, and trees too! Solar energy is sustainable, renewable, and abundantly available. Solar PV systems are more affordable than ever, and many Texans are making the switch to solar. Get a free, no-obligation solar estimate here using satellite technology through Google Earth to analyze your roof shape and local weather patterns.
At DFW Solar Electric, we believe in making solar energy affordable and available to everyone. We have solar panel installation specialists located in North Texas, performing work all around the Dallas-Fort Worth Metroplex, including Arlington, Carrollton, Coppell, Dallas, Denton, Duncanville, Flower Mound, Fort Worth, Frisco, Garland, Grand Prairie, Irving, Keller, Lewisville, Mansfield, McKinney, Plano, Richardson, Southlake, and more.
Our Solar Energy Solutions
Are you thinking about a solar panel system for your home or business? Give us a call at 972-827-7651 or click HERE to get a free, no-obligation consultation, and we'll perform a detailed analysis to help you determine which solar panels make sense for you.