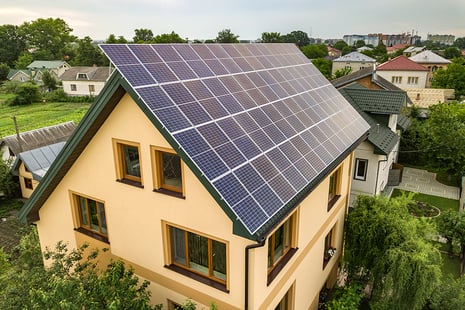 It's that time of year again! The weather is getting warmer, the days are getting longer, and it's time to break out the cleaning supplies. But before you start scrubbing your windows and washing your gutters, don't forget about your solar panels! Like the rest of your home, your solar panels occasionally need a good spring cleaning. Here are some tips on how to clean your solar panels and keep them in tip-top shape.
How Often Should I Clean My Solar Panels?
Ideally, you should clean your solar panels at least once a year. However, if you live in an area with dust or pollen, you may need to clean them more often. You should also give your panels a once-over after any major storms to make sure there isn't any debris blocking the sun from reaching the cells.
What's the Best Way to Clean Solar Panels?
The best way to clean solar panels is with a soft brush and plain water. You don't need fancy cleaners or solvents—just a little elbow grease and some H2O. Start by lightly brushing away dirt, dust, or pollen from the panel's surface. Then use a garden hose (on the low setting) to rinse away any remaining debris. Be careful not to use too much pressure, as you don't want to damage the panel. Once you're finished cleaning, simply allow the panel to air dry in the sun.
When Should I Hire a Professional to Clean My Solar Panels?
If your solar panels are particularly dirty or difficult to reach, you may want to hire a professional to do the job for you. DFW Solar Electric can assist with any solar panel maintenance that you may need, and can help with cleaning your solar system, so you can rest assured that your panels will always shine brightly.
Solar panels are a great way to save money and reduce your carbon footprint. But, like anything else, they occasionally require a little TLC. Following these simple tips, can keep your solar panels clean and running efficiently all year!
DFW Solar Electric Service Areas
We service all of the Dallas-Fort Worth metroplex, including Frisco, Allen, Plano, Southlake, McKinney, Colleyville, Flower Mound, Lewisville, Keller, and Coppell. If you're thinking about switching to solar, contact us today to learn more at 972-827-7651. We'd be happy to answer any of your questions and help you get started on your journey to renewable energy.
About DFW Solar Electric
With more than 30,000 solar panels installed to date, DFW Solar Electric has the experience and professionalism to provide your home with the best, most efficient possible solar power system. We use only products from reputable and time-trusted suppliers, and our installations are guaranteed to last with industry-standard maintenance.
While there are many solar installers to choose from, selecting one who knows the area and already has a proven track record of excellence can simplify the process and ensure you get the best return on your investment.