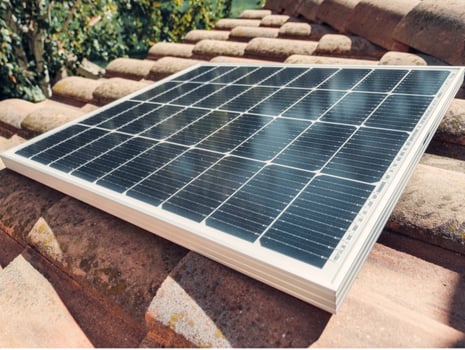 In honor of the World Sustainable Energy Days event that kicks off on February 28th, why not consider practical ways to live more environmentally friendly lives? World Sustainable Energy Days (WSED) is an annual three-day event. People worldwide share ideas and knowledge on achieving a sustainable energy future. This year's theme is "Energy Transition = Energy Security". Let's look at ways you can transition energy use in your homes and communities during this year's WSED.
Solar Power
Solar power is one of the most effective ways to reduce your carbon footprint and lower your monthly electric bills. Suppose you're looking for an easy transition to using solar energy. In that case, installing a solar panel system in your home is worth considering. A solar panel system converts sunlight into electricity, which can then power your home appliances and electronics. Most modern systems are designed with scalability in mind; you can gradually add additional panels over time if needed. Plus, many local utilities offer special incentives for homeowners who install solar panels, often covering up to 30% of the total installation cost.
Energy Efficient Appliances
One of the easiest ways to live more sustainably is by using energy-efficient appliances. The US Department of Energy has an excellent guide on choosing energy-efficient appliances. As a rule of thumb, try to select models with high Energy Star ratings—the higher the rating, the more efficient the appliance is likely to be. In addition, many cities offer tax credits and other incentives for families who install solar panels or other renewable energy sources. So if you're looking for an eco-friendly way to light up your home, solar power may be the perfect solution for you!
Reduce Your Carbon Footprint
The most effective way to reduce your carbon footprint is by reducing your consumption of fossil fuels such as gas and oil. There are many easy ways to do this at home—for example, replacing old light bulbs with LED bulbs can help reduce your electricity usage significantly. Additionally, try opting for local produce over imported goods whenever possible; locally grown food has a much lower carbon footprint than food shipped from across the globe. Finally, be mindful about what materials you use when building or remodeling—wood certified by the Forest Stewardship Council (FSC) is sourced from sustainably managed forests and contains far fewer toxins than non-certified lumber.
Be Eco-Conscious in Your Neighborhood and City
The best way to ensure your city is eco-friendly is by becoming active in local government initiatives promoting sustainability. Get involved with local green initiatives like community gardens or solar installations, volunteer at cleanups, or even spread awareness through social media campaigns! Being actively engaged in eco-friendly activities will help ensure that future generations have access to clean air and water while supporting a healthier planet overall.
Making small changes around your home can significantly impact creating a more sustainable world—and celebrating World Sustainable Energy Days is the perfect opportunity to start taking steps towards living green! From using energy-efficient appliances and reducing your carbon footprint to getting involved in local green initiatives, there are plenty of simple yet effective ways to ensure you're doing your part for a cleaner planet. Let's get out there and make some real change happen!
DFW Solar Electric Service Areas
We service all of the Dallas-Fort Worth metroplex, including Frisco, Allen, Plano, Southlake, McKinney,Colleyville, Flower Mound, Lewisville, Keller, and Coppell. If you're thinking about switching to solar, contact us today to learn more at 972-827-7651. We'd be happy to answer any of your questions and help you get started on your journey to renewable energy.
About DFW Solar Electric
With more than 30,000 solar panels installed to date, DFW Solar Electric has the experience and professionalism to provide your home with the best, most efficient possible solar power system. We use only products from reputable and time-trusted suppliers, and our installations are guaranteed to last with industry-standard maintenance.
While there are many solar installers to choose from, selecting one who knows the area and already has a proven track record of excellence can simplify the process and ensure you get the best return on your investment.