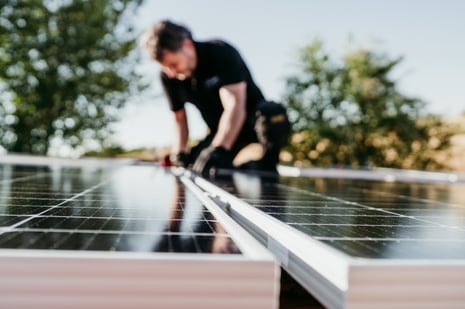 This year on December 2nd, we celebrate World Pollution Prevention Day. Read the full article to learn how switching to solar can help make a difference.
This year on December 2nd, we celebrate World Pollution Prevention Day. This day has been set aside to bring awareness to the growing pollution problem and what we can do to help reduce it. Here in the Dallas-Fort Worth area, we are no strangers to smog and air pollution. In fact, according to the American Lung Association, the Dallas-Fort Worth area ranks 5th in the nation for high ozone days. But there is something we can do to help reduce the amount of pollution in our air. By switching to solar energy for our homes, we can do our part in reducing greenhouse gas emissions and help make the air we breathe a little bit cleaner.
The Switch to Solar Energy Helps Reduce Greenhouse Gas Emissions
To understand how switching to solar energy can help reduce greenhouse gas emissions, we first need to understand what greenhouse gases are. Greenhouse gases trap heat in the atmosphere and cause the Earth's temperature to rise. Some examples of greenhouse gases are Carbon Dioxide (CO2), Methane (CH4), Nitrous Oxide (N2O), and Water Vapor (H2O). According to the EPA, Carbon Dioxide is the most common greenhouse gas emitted by humans in the United States.
So how does switching to solar energy help reduce these emissions? When you switch to solar energy, you no longer rely on fossil fuels like natural gas and coal to power your home. And since burning these fossil fuels emits greenhouse gases into the atmosphere, switching to solar energy means you are helping reduce these emissions. In fact, according to the EPA, generating electricity from solar panels prevents about 1 pound of carbon dioxide from being emitted into the atmosphere for every kilowatt-hour (kWh) of electricity produced.
Solar Energy is a Cleaner Form of Energy Production
Another way switching to solar helps reduce pollution is that it is a cleaner form of energy production. When you generate electricity from solar panels, no toxic byproducts or emissions are released into the environment like in other forms of energy production, such as coal power plants. Coal power plants release pollutants such as sulfur dioxide, nitrogen oxides, and particulate matter into the air, which can cause respiratory problems in humans and other animals. These pollutants can also contribute to smog and ground-level ozone formation.
Solar Energy Helps Reduce Demand on Traditional Power Plants
Solar energy also helps reduce demand on traditional power plants, which run on fossil fuels like natural gas and coal. When there is less demand for these power plants, they have to generate less electricity which means they will emit fewer pollutants into the environment.
Making the switch to solar energy is a great way you can help reduce pollution and do your part in combating climate change. If everyone did their part in making this switch, just think of how much cleaner our air would be! Contact DFW Solar Electric today, and let us show you how easy it is to switch to solar! You'll be glad you did!
DFW Solar Electric Service Areas
We service all of the Dallas-Fort Worth metroplex, including Frisco, Allen, Plano, Southlake, McKinney, Colleyville, Flower Mound, Lewisville, Keller, and Coppell. If you're thinking about switching to solar, contact us today to learn more at 972-827-7651. We'd be happy to answer any of your questions and help you get started on your journey to renewable energy.
About DFW Solar Electric
With more than 30,000 solar panels installed to date, DFW Solar Electric has the experience and professionalism to provide your home with the best, most efficient possible solar power system. We use only products from reputable and time-trusted suppliers, and our installations are guaranteed to last with industry-standard maintenance.
While there are many solar installers to choose from, selecting one who knows the area and already has a proven track record of excellence can simplify the process and ensure you get the best return on your investment.