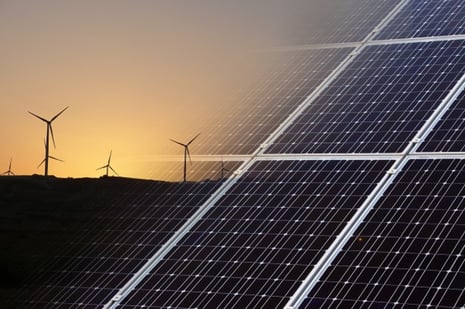 Far and wide, people are discussing climate change, fossil fuels, renewable energy, and everything in between. As a homeowner in the Dallas-Fort Worth area, here is everything you need to understand about the difference between renewable and non-renewable energy sources and how solar energy is an excellent option that is reliable, green, and affordable.
Renewable vs. Non-renewable Energy Sources: What's the difference?
To put it simply, renewable energy sources can be replenished or replaced in a relatively short amount of time. Non-renewable energy sources, on the other hand, are finite—meaning they will eventually run out. Here are some examples of renewable and non-renewable energy sources:
Renewable Energy Sources:
Solar
Wind
Geothermal
Hydroelectric
Non-renewable Energy Sources:
Coal
Oil
Natural Gas
Nuclear Energy
Solar Power is a Green, Reliable, and Affordable Energy Source for Your Home
As a homeowner, you have a lot of choices when it comes to powering your home. Solar power is an increasingly popular option for a few reasons. First, it's a green energy source, meaning it doesn't release harmful emissions into the atmosphere. Second, it's a reliable energy source and will produce electricity year-round. And third, it's becoming more and more affordable as technology improves and solar panel prices continue to drop. In fact, according to the U.S. Department of Energy, the cost of solar photovoltaic (PV) systems has fallen by more than 70% since 2010!
When it comes to powering your home, you have many options—but solar power is quickly becoming one of the most popular choices for homeowners in Keller, Coppell, Lewisville, and the surrounding areas. That's because solar energy is green, reliable, and affordable—and as solar panel prices continue to drop, they will only become more prevalent in the future. So, if you're considering switching to solar power, now is a great time to do it!
About DFW Solar Electric
With more than 30,000 solar panels installed to date, DFW Solar Electric has the experience and professionalism to provide your home with the best, most efficient possible solar power system. We use only products from reputable and time-trusted suppliers, and our installations are guaranteed to last with industry-standard maintenance.
While there are many solar installers to choose from, selecting one who knows the area and already has a proven track record of excellence can simplify the process and ensure you get the best return on your investment.
If you're thinking about switching to solar, contact us today to learn more at 972-827-7651. We'd be happy to answer any of your questions and help you get started on your journey to renewable energy.