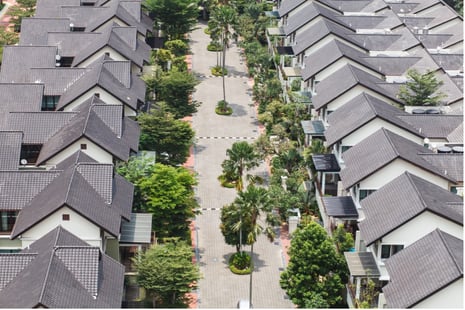 Interested in switching to solar power for your home, but not sure about your Homeowner's Association's (HOA) rules and regulations? Read more.
In 2011, the Solar Opportunity and Local Access Rights Act was introduced to the United States House of Representatives, and since then has been supported by solar advocates like SEIA.
Solar access laws prevent HOAs from prohibiting solar panel installations or having contracts restricting homeowners from installing them. However, HOAs can usually make certain requests about a system, as long as they don't make the proposed solar system less effective or more expensive.
In Texas, there are a few things in place to help protect homeowners and enable them to have access to residential solar power: Texas House Bill (HB) 362 and Texas Property Code Section 202.010 are the two most beneficial.
In Texas House Bill (HB) 362, HOAs are limited from restricting solar devices. Homeowners that answer to an HOA for their neighborhood are still expected to follow a standard protocol for modifying the house's exterior. This typically entails a written request sent to the governing body of the community.
An amendment to HB-362, Texas Property Code Section 202.010, reinforces that, in general, HOAs cannot prohibit or restrict property owners from installing solar energy devices as defined in the Texas Tax Code Section 171.107. According to this code, "solar energy device" means a system or series of mechanisms designed primarily to provide heating or cooling or to produce electrical or mechanical power by collecting and transferring solar-generated energy. The term includes a mechanical or chemical device that has the ability to store solar-generated energy for use in heating or cooling or in the production of power.
In what scenarios can an HOA restrict a solar energy device?
If the solar energy devices are illegal or violate public health and safety
If they are located on common property within the subdivision
If they extend higher than the roofline, do not conform to the slope of the roof, or are not parallel to the roofline
If they are ground-mounted and rise above the homeowner's fence
If they are installed in a way that voids the warranties
If they have an element that is not in a silver, bronze, or black tone
If they are installed without prior approval by the HOA
What's the bottom line? Homeowners have protected rights to install and utilize solar PV systems. Although there are some restrictions, installers like DFW Solar Electric can help you resolve virtually all restriction conflicts helping you reliably switch to solar. For more information about working with your homeowner's association to install solar on your home, check out this helpful guide from Solar United Neighbors.
Our Solar Energy Solutions
Are you thinking about a solar panel system for your home or business? Give us a call at 972-827-7651 or click HERE to get a free, no-obligation consultation, and we'll perform a detailed analysis to help you determine which solar panels make sense for you.