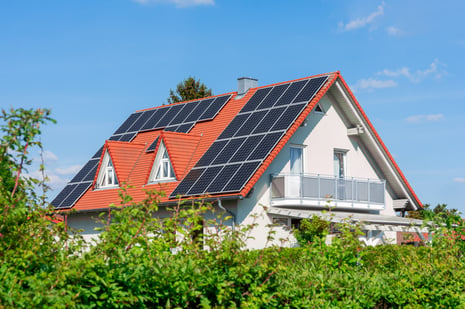 Are you looking for ways to reduce your carbon footprint? Maybe you want to save some money on electricity bills. Whatever your motivation, one great way to make a positive change is by switching to solar power! Here's how you can show your home some love with solar energy.
Investigate Your Home's Energy Efficiency
Before investing in solar panels, you should make sure that you have an energy-efficient home. Think about making improvements like proper insulation and air sealing so that you are using as little energy as possible. This will help ensure that most of the power from your solar system is used in your house and not wasted.
Assess Your Solar Potential and Any Limitations
Next, consider the layout of your house and property when considering solar power. Do you have a south-facing roof space? Are there any trees blocking sunlight? These things will significantly impact your home's sun exposure throughout the year. Your installer should be able to assess if any limitations are preventing you from installing a solar system on your house or property.
Assess Your Options for Going Solar
Now it's time to look at all the options for going solar. It's best to get multiple bids from installers and review them with a fine-tooth comb before making any decisions. Make sure they include all related costs, such as installation fees, permits, equipment purchases, warranties, etc., so there are no surprises down the line. You should also investigate loan options and paying cash for a system outright - depending on what works best for you financially and logistically.
Estimate Your Solar Electricity Needs
Your installer can help you determine how much energy needs to be produced by an average system for your household's usage pattern - this is known as sizing a system appropriately for peak efficiency and cost savings. Once this step is complete, then it's time for permits!
Obtain Bids and Site Assessments from Contractors
Now it's time to take action! Get multiple bids from contractors who specialize in installing solar systems in homes like yours - they should be able to do site assessments, too, which will give you an idea of how much sunshine is hitting your house throughout the year (this helps them size up what kind of system would work best). Ensure they provide detailed information about costs associated with each bid, including installation fees, permits, equipment purchases, warranties, etc. Hence, there are no surprises when it comes time to pay up!
Understand Available Financing & Incentives
Remember financing and incentives that might help offset some of the costs associated with installing a new solar system. The federal government offers tax credits for residential systems, which can help lower upfront costs significantly; many states offer additional incentives, which can be researched online or through local government offices near where one lives! Additionally, plenty of private lenders might be willing to lend money towards installations if needed - make sure to investigate all options before signing an installation contract.
Work With Your Installer & Utility to Install The System & Set Up Agreements
Lastly, once everything has been decided upon – size/type/location of panels etc., it's time to install them! Working with both an installer and utility company ensure that everything goes smoothly during this process – ensuring electric meters are correctly set up so that net metering agreements can begin immediately after installation completion!
Going green has never been easier than it is today with all these fantastic options available at our fingertips - why not show our planet (and wallet!) some love by investing in renewable energy sources like solar power? It's easier than ever thanks to advances in technology combined with various financial incentives offered by both local governments & private lenders alike – taking steps towards sustainability has never been simpler!
DFW Solar Electric Service Areas
We service all of the Dallas-Fort Worth metroplex, including Frisco, Allen, Plano, Southlake, McKinney, Colleyville, Flower Mound, Lewisville, Keller, and Coppell. If you're thinking about switching to solar, contact us today to learn more at 972-827-7651. We'd be happy to answer any of your questions and help you get started on your journey to renewable energy.
About DFW Solar Electric
With more than 30,000 solar panels installed to date, DFW Solar Electric has the experience and professionalism to provide your home with the best, most efficient possible solar power system. We use only products from reputable and time-trusted suppliers, and our installations are guaranteed to last with industry-standard maintenance.
While there are many solar installers to choose from, selecting one who knows the area and already has a proven track record of excellence can simplify the process and ensure you get the best return on your investment.