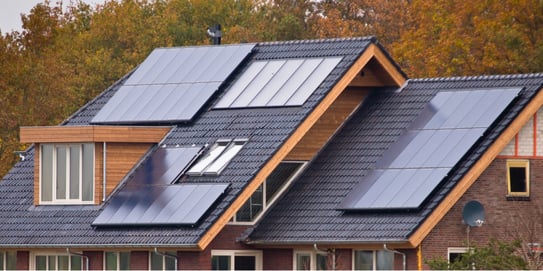 After our recent winter storm fiasco in Texas, homeowners statewide have been searching for electricity solutions that will empower them to be less reliant on the energy grid. All energy in the United States is powered and regulated through the national power grid. This grid controls the flow of energy between power plants, businesses, and homes. Unfortunately, our energy grid is set up in such a way that if a natural disaster or other disruption occurs, the results can be catastrophic for consumers.
How does the energy grid work? The grid is a vast and complex network of power lines, connectors, and converters that power our neighborhoods and cities. The energy originates from power plants that then transfer the electricity through various checkpoints that increase the voltage. High voltage power lines feed into local networks of wires and transformers that allow homes and buildings to have access to an electrical source.
From a homeowner's perspective, they simply flip a light switch, plug in their computer, or turn the air conditioning thermostat down – simple enough, thanks to the complex inner workings of the larger grid. But what do you do if the light doesn't power on when you flip the switch? Or the Texas Summer heat cannot be offset with cool air conditioning because the power is out? Or the fridge can't keep groceries cold, and dinner can't be cooked in the oven – all because of a disruption to the larger power grid?
As demand increases, the need for a better way to regulate power and utilize green energy more efficiently also rises. In the past, going "off-grid" may have been out of reach for many individuals and families, but all of that has begun to change. Off-grid solar systems are becoming more affordable than ever as the cost of manufacturing solar panels and batteries has declined. An off-grid system allows energy consumers to power their homes independently from the larger grid when needed.
What are the pros of energy independence? For many, it's the reliability and reduced long-term costs that make renewable energy so appealing. During a big storm, if there is any damage to power lines or electrical poles, it's the grid-tied homes that are affected. The capability to heat your home, power your appliances, and continue operating your house as usual despite rolling blackouts or wide-scale electrical outages is incredible and made possible through solar panels and energy storage batteries. These systems allow people to live sustainably without compromising their energy-dependent lifestyle.
If you're considering solar panels for your home, it's more affordable than ever to install a robust system capable of generating and storing enough energy to run your home. During the next Texas weather event, this could be a game-changer, allowing energy consumers to rest assured their families and homes will fare better than grid-tied homes.
Contact us at DFW Solar Electric today for more information about switching to solar power for your home. DFW Solar Electric has experienced and professional installation teams, and we adhere to all building codes and industry standards. We use only products from reputable suppliers, and our solar panels, inverters, and racking materials are guaranteed to last.
Are you solar ready? Our team of experts will help you determine your solar readiness. Learn more about if your home is a good fit for solar panel installation at https://www.dfwsolarelectric.com/residential-solar-panels-for-your-home.
Our Solar Energy Solutions
Are you thinking about a solar panel system for your home or business? Give us a call at 972-827-7651 or click HERE to get a free, no-obligation consultation, and we'll perform a detailed analysis to help you determine which solar panels make sense for you.