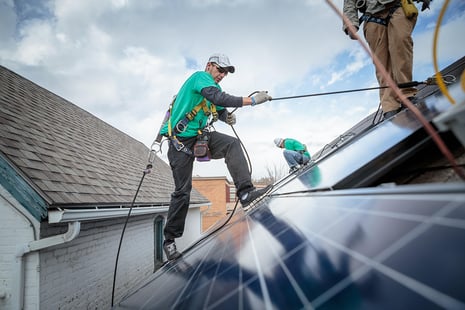 A solar system installation from a trusted provider like DFW Solar Electric can drastically reduce your electricity consumption from your local power grid helping make your house more sustainable in 2022. Read the full article to learn if solar is right for you.
Have you been considering solar panels for your home, but aren't sure where to even begin? Not to worry, our team of experienced professionals are here to help. We know that taking the leap to install a full system can feel overwhelming, but we've broken the process down into five easy steps.
Determine if solar is an option for you
Evaluate available options
Estimate your electricity needs
Gather solar quotes that meet your needs
Select a quote, financial plan, and install
Residential solar systems provide several benefits to homeowners, such as lower electric bills, increased property value, reduced environmental impact, and so on – but before making an investment, it's critical to determine if solar is right for you.
It's important to evaluate what kind of home you live in—this can impact the size and angle of the roof, property needs, and so on. Examples may include:
Single-family home
Condo/apartment
Mobile home
Commercial
Your property arrangement can also impact your ability to install a solar system on your rooftop. Consider the following arrangements:
I own the property
I own the property and answer to an HOA
I rent the property
How much sunlight your roof gets is important, and it's especially important to evaluate if there are any buildings, trees, or objects that obstruct sunlight from hitting your roof. So, how much sunlight does your roof get?
A lot of sunlight
Some sunlight
Hardly any sunlight
A solar system is a worthy investment, but in order to receive a reasonable return on your investment, you need to know what you're currently paying and if switching to solar is worth it for you. How low/high is your electricity bill?
Very high ($200+)
High ($150 - $199)
Low ($100 - $149)
Very Low ($0 - $99)
Every house is different, and the amount of electricity you require in a given month can go up or down depending on the season, appliance usage, square footage or even number of residents. All of these factors can help determine if there is value in you investing in solar panels. Homeowners with a significant amount of direct sunlight and higher electric bills are often the best candidates for a solar installation.
Our solar experts can help determine if you're a good candidate by providing a complete diagnostic of your home's solar readiness, including:
Roof analysis – Some roofs may require repairs or structural strengthening before they're ready for a solar installation.
Sunlight angle analysis – Does your roof experience excessive shade or awkward sunlight angles that may lead to inefficient solar panels? Is there enough flat space to make panels a viable and efficient option?
Legal analysis– Does your city, county or homeowner's associate restrict the use of solar panels on your property? DFW Solar Electric can often work with these entities to reach a resolution that makes your solar installation possible.
With more than 30,000 solar panels installed to date, DFW Solar Electric has the experience and professionalism to provide your home with the best, most efficient possible solar power system. We use only products from reputable and time-trusted suppliers, and our installations are guaranteed to last with industry-standard maintenance.
Give us a call at 972-827-7651 or visit us online at https://dfwsolarelectric.com to learn more and let us know you're interested. We'll put you in touch with one of our solar installation experts. After examining your home's structure, roofline and roof orientation, we can give you a clear picture of how much your solar panels will cost, how much energy you should be able to generate, and how much carbon emissions your installation alone can eliminate.