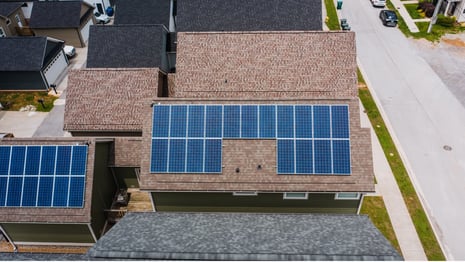 Solar energy has become increasingly popular in recent years, and for a good reason. Not only is it an inexhaustible energy source, but solar power can also be a great way to save money on your electricity bills. Let's look at how solar power works and why it's never been more affordable for homeowners.
Understanding Solar Power Basics
Solar power isn't just about having a few panels on your roof. The technology behind solar energy harnesses the sun's rays and converts them into usable energy that you can use to power your home. Solar panels are made up of photovoltaic cells, which absorb sunlight and generate direct current (DC) electricity. This DC electricity is converted into alternating current (AC) electricity with an inverter, which most homes run on. AC electricity powers the electrical outlets in our homes and businesses so we can use appliances, lights, computers, etc.
The Benefits of Installing Solar Panels
Installing solar panels reduces your dependence on fossil fuels. Also, it helps reduce your carbon footprint by reducing greenhouse gas emissions from traditional energy sources like coal-fired power plants. Additionally, these panels can help you save money on your electricity bills as they provide an alternative source of clean energy that does not need to be purchased from utility companies. With more states offering incentives for installing solar panels, now is a great time to switch to this renewable energy source.
Affordability & Savings with Solar Power
Despite the initial costs associated with installing solar panels, many homeowners are surprised to find out how affordable they are when all factors are considered. In addition to tax credits and rebates offered by states and local governments, many companies offer financing options allowing people to install solar panels without paying anything upfront. These financing plans often come with low-interest rates and monthly payments that are lower than many people's typical electric bills—meaning they could start saving money immediately! Plus, if you ever decide to sell your home down the line, you may even be able to recoup some of those initial costs through increased property value since homes with solar panels tend to increase in value faster than those without them.
Harnessing the sun's power has never been more accessible or affordable for homeowners than now! Not only do panel installations come with potential tax credits and rebates from state/local government programs, but also several companies offer financing options that make installation even more accessible for everyone regardless of budget constraints or financial situation. Couple this with potential savings on monthly electric bills plus increased property values down the line—it almost seems too good not to take advantage of! So if you're interested in transitioning away from traditional sources of energy like coal-fired power plants while saving money along the way—look no further than investing in solar power today!
DFW Solar Electric Service Areas
We service all of the Dallas-Fort Worth metroplex, including Frisco, Allen, Plano, Southlake, McKinney,Colleyville, Flower Mound, Lewisville, Keller, and Coppell. If you're thinking about switching to solar, contact us today to learn more at 972-827-7651. We'd be happy to answer any of your questions and help you get started on your journey to renewable energy.
About DFW Solar Electric
With more than 30,000 solar panels installed to date, DFW Solar Electric has the experience and professionalism to provide your home with the best, most efficient possible solar power system. We use only products from reputable and time-trusted suppliers, and our installations are guaranteed to last with industry-standard maintenance.
While there are many solar installers to choose from, selecting one who knows the area and already has a proven track record of excellence can simplify the process and ensure you get the best return on your investment.