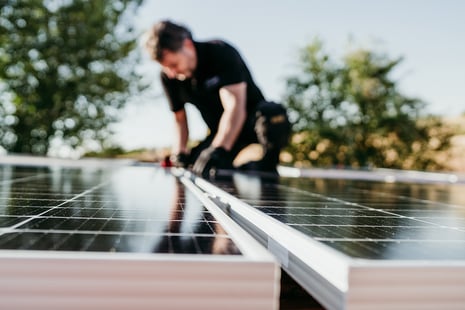 Let's face it when you think of celebrating Saint Patrick's Day, the first thing that comes to mind is wearing green. But what if you took a different route this year, and instead of wearing green, you went green? As a homeowner in the DFW area, why not make your house greener too? And no, we don't mean the color. Going green is about living more sustainably and utilizing clean energy sources whenever possible. Keep reading to learn how to switch to solar power this Saint Patrick's Day!
So, What is Going Green?
Going green means having an environmentally friendly lifestyle and using renewable resources such as solar power for your home. Solar energy is one of the cleanest forms of renewable energy since it does not produce any pollution or require water for its operation. Additionally, solar panels are relatively easy to install; over time, they can help reduce your electricity bills. The key to going green is learning how to use these renewable energy sources to conserve resources while still providing your family with a comfortable home environment.
Why You Should Consider Going Solar
Solar energy has gained traction recently due to its cost-saving benefits and environmental friendliness. By switching to solar power, you can reduce your electricity bill by up to 50% while also helping reduce your carbon footprint on the planet. Additionally, solar panel systems have come down significantly in price over the past few years, making them more affordable than ever before. Furthermore, plenty of tax incentives are available for homeowners who switch to solar power, so be sure to check with your local government for details on these programs.
How Can I Switch To Solar?
Switching to solar power is quite simple, thanks to technological advances and installation techniques. A qualified professional should be able to install a new system in just a few days without much disruption or damage to your home or property. Additionally, many companies offer financing options that make it even easier for homeowners looking for an affordable way to go green this St Patrick's Day!
This Saint Patrick's Day, why not take advantage of this opportunity and make a real difference by switching from traditional electricity sources such as coal and oil and embracing renewable energy sources like solar power instead? Doing so will save money on utility bills while helping reduce our collective carbon footprint on the planet—all while keeping you "in the spirit" with some good old-fashioned Irish luck! Now that's something worth celebrating! Happy St Patrick's Day, everyone!
DFW Solar Electric Service Areas
We service all of the Dallas-Fort Worth metroplex, including Frisco, Allen, Plano, Southlake, McKinney, Colleyville, Flower Mound, Lewisville, Keller, and Coppell. If you're thinking about switching to solar, contact us today to learn more at 972-827-7651. We'd be happy to answer any of your questions and help you get started on your journey to renewable energy.
About DFW Solar Electric
With more than 30,000 solar panels installed to date, DFW Solar Electric has the experience and professionalism to provide your home with the best, most efficient possible solar power system. We use only products from reputable and time-trusted suppliers, and our installations are guaranteed to last with industry-standard maintenance.
While there are many solar installers to choose from, selecting one who knows the area and already has a proven track record of excellence can simplify the process and ensure you get the best return on your investment.