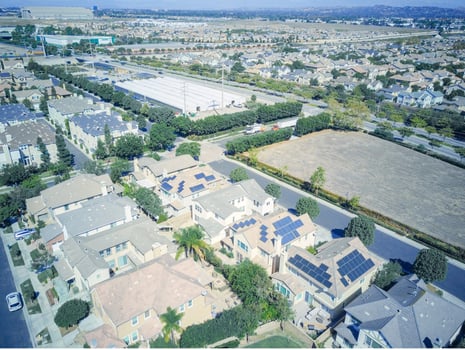 Going green and installing solar panels is an excellent decision for homeowners looking to reduce their carbon footprint. But once you're set-up, it's important to remember that, just like anything else in your home, they require regular maintenance to stay in top condition. That said, here are five things that every homeowner should know about maintaining their Rooftop Solar PV System.
Keep the Panels Out of the Shade
A key component to keeping your solar panels working optimally is ensuring they get plenty of sunlight. To do this, make sure there are no trees or tall buildings shading them from the sun. Trim back any foliage that may block sunlight from reaching your panels.
Check on Inverters
When it comes to solar energy systems, inverters are one of the essential parts as they convert DC electricity produced by solar modules into AC electricity for use in homes and businesses. As such, it is necessary to check on them regularly to ensure everything is functioning correctly and that their LEDs indicate the correct status (green means go!). Most systems are installed with microinverters that include an online monitoring tool that will allow you to quickly determine if each of the panels are producing energy as designed. All it takes is a periodic login to the monitoring site to make sure your system is working.
Document the Performance of Your Solar Panels
One way to ensure your rooftop solar PV system remains in top shape is by monitoring its performance throughout the year. Documenting how many kWh (kilowatt-hours) were produced each month can help you determine if something needs fixing or if certain areas need improvement. The online monitoring tool will make it easy to track performance throughout the year and across multiple years. This information can also help you identify problems before they become too costly or challenging to repair.
Remove Debris from the Panels
It's essential that you keep debris away from your panel surfaces as much as possible; when dirt accumulates on them, it prevents sunlight from reaching them effectively, which reduces their efficiency and output power significantly over time. This is why periodic cleaning is necessary—to keep dust and other debris off so your panels can continue producing electricity efficiently.
Hire a Solar Panel Cleaning Company
If you don't have time or don't want to do the cleaning yourself, hiring a professional solar panel cleaning company may be a good option for you, as they will take care of all the hard work while ensuring everything is done safely and correctly. Professional cleaners can often detect potential issues with your system early on and suggest repairs if needed before more serious damages occur down the line.
Maintaining your rooftop solar PV system doesn't have to be complicated or expensive; it just requires being proactive and understanding what needs to be done to keep it running smoothly well into the future. This has never been simpler! By following these five simple tips—keeping your panels out of the shade, checking on inverters regularly, documenting performance data consistently, removing debris from panel surfaces periodically, and hiring a professional cleaning team—you'll be able to ensure that your rooftop solar PV system remains in top condition for years to come!
DFW Solar Electric Service Areas
We service all of the Dallas-Fort Worth metroplex, including Frisco, Allen, Plano, Southlake, McKinney,Colleyville, Flower Mound, Lewisville, Keller, and Coppell. If you're thinking about switching to solar, contact us today to learn more at 972-827-7651. We'd be happy to answer any of your questions and help you get started on your journey to renewable energy.
About DFW Solar Electric
With more than 30,000 solar panels installed to date, DFW Solar Electric has the experience and professionalism to provide your home with the best, most efficient possible solar power system. We use only products from reputable and time-trusted suppliers, and our installations are guaranteed to last with industry-standard maintenance.
While there are many solar installers to choose from, selecting one who knows the area and already has a proven track record of excellence can simplify the process and ensure you get the best return on your investment.