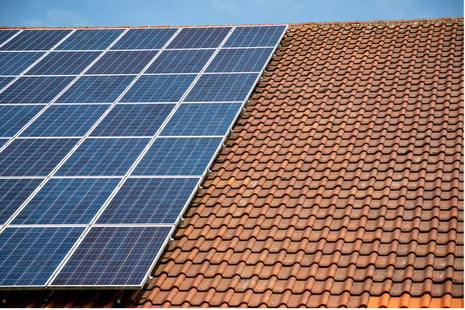 Have you been considering switching to solar power but aren't sure what to expect or if it's right for you? Read the full article to learn three easy steps to make switching to solar easier than ever.
Solar panels are enjoying a long-deserved moment in the spotlight. American jobs in solar energy production have increased 167% over the past decade, according to the U.S. Department of Energy. Moreover, according to the same data, from 2008 to today, solar energy generation in the U.S. has swelled from a meager .34 gigawatts to a staggering 97.2 gigawatts.
The expansion of the industry has led to advancements in solar technology in recent decades that make solar panels more affordable than ever, easier than ever to source, install, and maintain, and more profitable than ever to achieve residential energy independence. The potential is within reach: no more wildly fluctuating monthly bills, no more unreliable power grids, and no more hidden fees or "soft" monopolies on local electricity markets. Here are three steps to make switching to solar easier than ever.
Step 1: Understand the technology
Don't worry – it isn't scary, and you don't need to be an engineer to understand the basics of solar power generation.
In short, solar power uses some form of solar panels – made up of solar cells – to convert the energy from sunlight directly into electricity.
Exactly how this conversion occurs depends on the exact type of solar cells your system uses. Still, regardless of method, solar panels just need one thing to keep pumping out power: direct or indirect sunlight. Direct sunlight, striking your solar panels at near-perpendicular angles for as much of the day as possible, leads to the most efficient energy output, but solar panels can even work in indirect sunlight. Surprisingly, solar panels can even generate power on cloudy days (though, again, at a lesser rate).
After generating electricity, your DFW Solar Electric system can then use the energy to power your residential electrical needs. Anything hardwired or plugged into your walls can benefit, from your TVs to your alarm clocks to your kitchen appliances. Depending on the solar system you install, excess generated power can be stored in rechargeable batteries or pumped out of the home and back into the electrical grid, paid for by your local electric utility provider, to power other homes and businesses in your area.
Step 2: Understand your home's needs
Every house is different, and the amount of electricity you require in a given month can go up or down depending on the season, appliance usage, square footage or even number of residents.
Your first step in exploring your solar options should be to connect with a reputable solar provider like DFW Solar Electric. Our solar experts can provide you with a complete diagnostic of your home's readiness for solar power generation, including:
Roof analysis – Some roofs may require repairs or structural strengthening before they're ready for a solar installation.

Sunlight angle analysis – Does your roof experience excessive shade or awkward sunlight angles that may lead to inefficient solar panels? Is there enough flat space to make panels a viable and efficient option?

Legal analysis– Does your city, county or homeowner's associate restrict the use of solar panels on your property? DFW Solar Electric can often work with these entities to reach a resolution that makes your solar installation possible.

Utility bill analysis – Does your home typically use enough energy to make solar panels and batteries a cost-effective solution?
DFW Solar Electric provides free, no-strings-attached and no-obligation proposals for residential solar projects, and can answer any questions you may have before beginning technical site surveys or installation, so let us know today if you may be interested.
Step 3: Understand your financing options
Solar panels are more affordable today than ever before. Solar panels that cost upwards of $100 to manufacture just decades ago can sometimes cost less than $1.00 to create today.
Even so, efficiently powering an average home requires quite a lot of power generation. We understand that paying for an entire solar installation all at once, let alone a battery system, may not be practical for most homeowners interested in renewable home energy.
Fortunately, financing your solar power project is also more accessible and reasonable than ever before.
In many cities, counties, and states, homeowners can take advantage of Property Assessed Clean Energy (PACE) loans to finance their solar panel installations. PACE loans offer a low-interest opportunity to fund renewable energy expenses. PACE loan regulations differ from location to location, but generally, the loans are repaid over a predetermined term, anywhere from five to 25 years, through an annual property tax assessment. PACE loans also offer the added benefit of remaining attached to the property rather than the individual borrower, so the loan follows your home hassle-free through a sale.
Some private banks and financial institutions in your area may offer other options for financing a solar project. In any case, DFW Solar Electric's financing team will work with you to find a solution that fits your needs and makes your solar energy revolution possible.
So, what are you waiting for? Solar panels are more affordable, accessible, and user-friendly than they've ever been, and DFW Solar Electric is ready to provide you with a solar installation to meet your specific needs. Give us a call today at 972-827-7651 or visit us at https://dfwsolarelectric.com to find out how you can get a quick, free estimate for your residential solar panels and learn more about our process.
Our Solar Energy Solutions
Are you thinking about a solar panel system for your home or business? Give us a call at 972-827-7651 or click HERE to get a free, no-obligation consultation, and we'll perform a detailed analysis to help you determine which solar panels make sense for you.